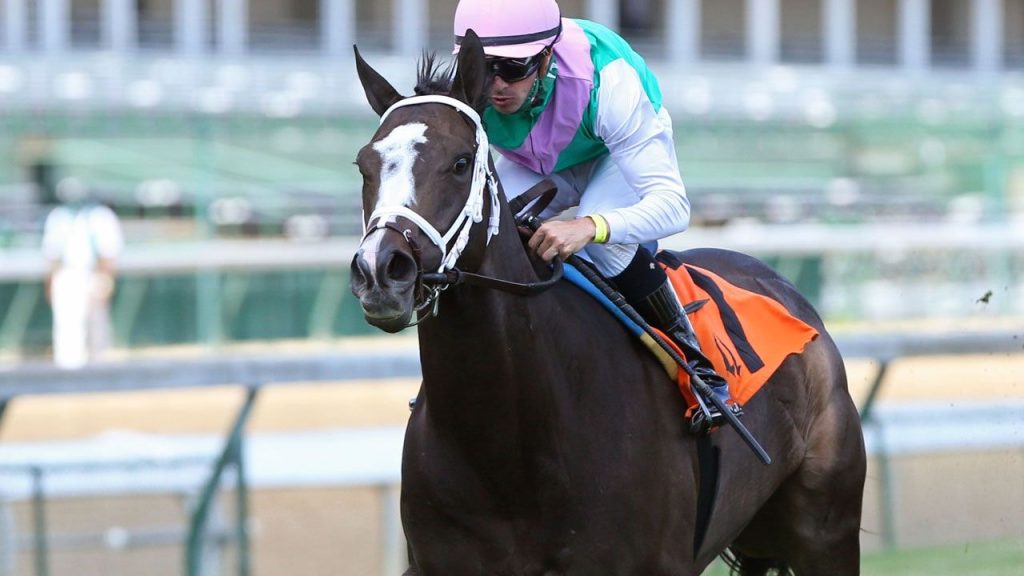 James Scully, Kellie Reilly, and Vance Hanson take a look back at a promising juvenile, the big turf stakes at Saratoga and Colonial Downs, and much more in this week's Racing Roundtable.
Will Rhyme Schemes develop into a major Kentucky Derby (G1) contender?
James Scully: I'm skeptical. Rhyme Schemes delivered a sensational win in the Saratoga Special, scoring by 9+ lengths for the second consecutive start, and it would be no surprise to see the talented colt overpower rivals in 1 1/16 races this fall. His sire, the versatile Ghostzapper has produced many quality one-turn types, including multiple sprint champions and at least six Grade 1 sprint winners, and Rhyme Schemes has displayed the same kind of brilliance at shorter distances for Norm Casse. He does possess a promising pedigree for classic distances on the dam side, so perhaps Royal Schemes will prove me wrong.
Kellie Reilly: Usually I'd be wary of a front-running, 5 1/2-furlong maiden winner in June standing the test of time and distance, but Rhyme Schemes strikes me as an exception. His Ellis Park romp didn't have the vibe of a speedball, even though he was only a half-second off the track record. The Saratoga Special confirmed that impression, as Rhyme Schemes employed different tactics, with the same overpowering result. Whether on the lead at Ellis, or stalking at the Spa, he's a colt with a high cruising speed who finds his own zone, wherever that puts him in a race, and then delivers the coup de grace. Trainer Norm Casse expects him to thrive around two turns. Sire Ghostzapper can get all types, from sprint stars to Dubai World Cup (G1) and Queen's Plate winners. The female line offers encouragement, since Rhyme Schemes comes from the family of two-time champion Malathaat.
Rhyme Schemes has the style of one who can carry his form forward through the Breeders' Cup Juvenile and onto the Kentucky Derby trail. We've a long way to go before he answers the 1 1/4-mile question, but if he stays healthy, Rhyme Schemes is poised to play a major role in the preps.
Vance Hanson: History suggests the odds are against any Saratoga Special winner making a notable splash at Churchill Downs the following spring. The only postwar Special winners to wear the blanket of roses were Bold Forbes (1975-76) and Swale (1983-84). That's not to say Rhyme Schemes can't develop into some type of classics contender. Recent examples include 2012 Belmont (G1) winner Union Rags and 2016 Preakness (G1) hero Exaggerator. He's obviously a very talented colt, and trainer Norm Casse believes he can improve with distance. Rhyme Schemes has emerged as a horse to keep an eye on, but it's far too early to either like or dislike his Derby chances.
Thoughts on the turf division after Arlington Million Day and the Fourstardave (G1)?
JS: Set Piece rolled to a convincing win in the 1 1/4-mile Arlington Million, the first time he's won beyond 1 1/16 miles – and it will be interesting to see where Brad Cox points him next. The Breeders' Cup Mile (G1) may be too sharp for the seven-year-old, and Set Piece may target a 1 1/2-mile race as a gauge for the Breeders' Cup Turf (G1), but tougher competition awaits the late runner.
Beverly D (G1) winner Fev Rover is the one out of the Festival of Racing races that I want moving forward. The European import appears to coming on as a five-year-old for Mark Casse, earning her first Grade 1 win Saturday, and Fev Rover has the potential to keep developing into a major player in the U.S. female turf ranks.
Casa Creed delivered a big performance, running down Annapolis to win the Fourstardave (G1) for the second consecutive year, but trainer Bill Mott was not excited about the prospect of shipping to Santa Anita for the Breeders' Cup Mile. "He probably deserves a rest," the Hall of Fame trainer said. "He's a good horse, very special. How can you ask for anything more? He's improved with every year he's raced." Co-owner Lee Einsidler echoed the same sentiment about the seven-year-old horse.
KR: Seven-year-old veterans Casa Creed and Set Piece put the younger whippersnappers in their place on Saturday, but Up to the Mark still ranks as the pro tem divisional leader until we see him again. Who would have imagined when Casa Creed finished third in the 2020 and 2021 runnings of the Fourstardave that he would go on to win the next two editions? Or that Set Piece, when he was second in that 2021 Fourstardave, would reach a new career high in the 2023 Arlington Million? Casa Creed deserves special credit for mowing down Annapolis, who appeared to have the run of the race at the Spa. That suggests Casa Creed is capable of faring better in the Breeders' Cup Mile (G1) than in his last attempts, 12th in 2020 and eighth in 2021.
Set Piece's course-record Million has a more circumstantial feel, as he got the perfect set-up. Had Up to the Mark, or one of Charlie Appleby's army been on the scene, we would have learned more. A similar point applies to Fev Rover's Beverly D. (G1), where she took full advantage as controlling speed, and her key rival, Didia, scratched. To be fair, Fev Rover is tactically versatile, but she too would have to pass sterner tests to shake up the divisional standings.
VH: Given the absence of division leader Up to the Mark, who was sidelined after winning the Manhattan (G1) in June, there were no significant revelations to come out of either the Fourstardave or Arlington Million. Casa Creed again confirmed he loves Saratoga, but that form doesn't always translate elsewhere. That's especially been the case at the Breeders' Cup, in which Casa Creed has failed to factor in three prior tries.
Set Piece's win in the Million was no great surprise; the race appeared wide open on paper and he looked as capable as anyone beforehand. But at age seven he's very much a known commodity and unlikely to build much more on that effort, which he would need to do in order to defeat Up to the Mark and/or classier European opposition down the road. As far as the turf male title is concerned, this division still goes through Up to the Mark.
What else caught your eye over the weekend?
JS: Deterministic rallied from about five lengths back in sixth on the far turn, nailing Hurricane Nelson on the wire in Saratoga's fifth race Saturday, a six-furlong maiden special weight for two-year-olds. A $625,000 two-year-old in training purchase, the Liam's Map colt looks like a promising type for Christophe Clement, and Hurricane Nelson ran well at first asking for Gustav Delgado.
KR: A few serious two-year-olds were in action at the Curragh on Saturday. Bucanero Fuerte absolutely took apart the Phoenix (G1), dominating a solid cast and prompting a what-have-been if he hadn't missed his prep for Royal Ascot. The AMO Racing runner sustained his only loss in the Coventry (G2), beaten just a length in third off a nearly two-month absence from his impressive debut. Had Coventry winner River Tiber turned up in the Phoenix (instead of awaiting this Sunday's Prix Morny [G1]), Bucanero Fuerte might have turned the tables. Given his connections' keen interest in the Breeders' Cup, and increasing footprint in U.S. racing, I wouldn't be surprised if Santa Anita is on his radar.
The Phoenix undercard witnessed two terrific maiden winners from the Ballydoyle brigade. First-timer Diego Velazquez, a Frankel half-brother to Group 1 globetrotter Broome and Point Lonsdale, looked clueless midrace before suddenly catching on and kicking 4 3/4 lengths clear. He's a natural prospect for the Derby (G1) at Epsom. Cherry Blossom, a speedier type as a No Nay Never filly, moved forward second time out to romp by five. Also worth watching is Dermot Weld's Red Viburnum, a Frankel blueblood who took on winners in her debut, and flashed home in a near-miss third to the Paddy Twomey-trained A Lilac Rolla and Ballydoyle's Opera Singer.
VH: Inspiral was back on her best form Sunday when defending her title in the Prix Jacques le Marois (G1) at Deauville, a victory that came 11 days after the four-year-old filly struggled while racing in bottomless ground in the Sussex (G1) at Goodwood. The Jacques le Marois was a Breeders' Cup Challenge prep for the Mile (G1), and Team Gosden will undoubtedly be taking a look at this year's renewal at Santa Anita, which should provide the filly the kind of footing she'd prefer, rather than what she might encounter if aimed for a race like the Queen Elizabeth II (G1) at Ascot. Inspiral is no Miesque or Goldikova, but on her best day she's as good as she needs to be and will demand respect if she does indeed show up at John Gosden's former stomping grounds in early November.